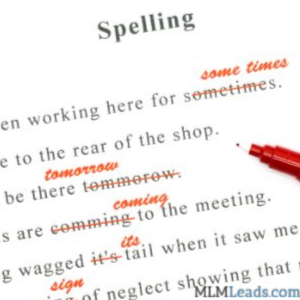 In today's marketing tip, I want to discuss the #1 way to kill your mlm web traffic to lead capture page conversion. It is:
misspelling
I'm guilty of this too – especially in my marketing tips newsletters!
You would be surprised just how many email replies I get whenever I misspell a word in my emails, or use a word incorrectly in a sentence.
So if my newsletter readers are turned off by my misspellings, imagine how your prospects will react when they land at your lead capture page.
Nothing good will come from having misspelled words in your lead capture page headlines.
So what should you do?
1) Check for misspelled words.
Copy/paste your lead capture page text into a word processor like "Word". The word processor will automatically highlight the incorrect spellings so that you can correct them.
2) Have someone else proofread your ad copy.
It's not enough to have correctly spelled words. You also have to check to make sure that the sentences read correctly. You will be surprised how many times I have proofread my newsletters, only to have someone else read it once and find broken sentences.
Take a few minutes now to review your lead capture page to make sure they read correctly. Once you've done that, go to your presentation pages. Make sure they read correctly. And when you're done with that, do the same with your follow-up emails. You may find errors there that can be easily fixed.
Once you're all setup, turn on your MyAutoPilot Traffic to start generating leads and signups.
Go here to get your MyAutoPilot Traffic now.
Thanks for reading.
To your success,